Cremation and Memorial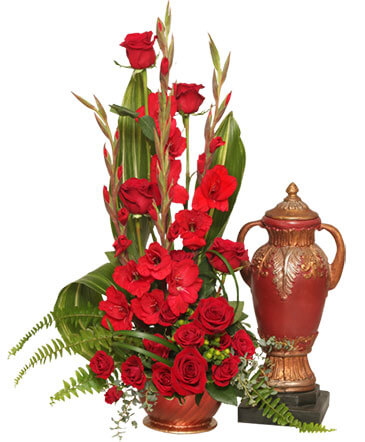 Red Remembrance
Cremation Flowers
(urn not included)
Consider honoring your loved one with extraordinary beauty. The Red Remembrance is a tasteful arrangement of red roses, gladiolus, spray roses, and green hypericum. Give thanks and and appreciation in remembrance of your loved one with this stunning arrangement.
Pay Tribute To Your Loved One With Flowers.
Beautiful cremation flower arrangements honor their memory and are ideal for any memorial service. Embody the spirit of the dearly departed and express your condolences with one of our cremation and memorial flower arrangements. Select an arrangement from our gallery of designs that truly encompasses the life of a lost loved one.
We also offer custom arrangements that we can design to match the spirit of a loved one. Let us create a lovely arrangement with their favorite flowers or colors. The arrangement can act as a centerpiece for the cremation urn or picture.
Call us or order online today. We also offer delivery for sending memorial flowers even if you are miles apart. Send a personalized message from the heart to the grieving family or friend along with your flowers.