Winter Flowers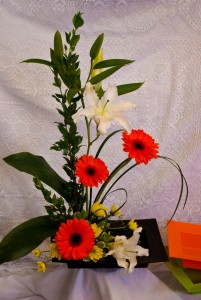 High Style
High Style Arrangement
For something a little different, try one of our contemporary arrangements, complete with rocks and water to create that Zen feel.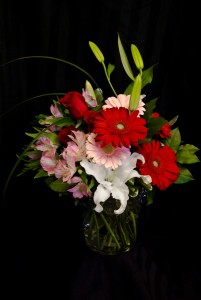 Champagne, anyone?
Fresh cut arrangement
A crystal champagne bucket with a beautiful mixture of red, pink and white flowers, complimented with exotic greens. Cheers to romance!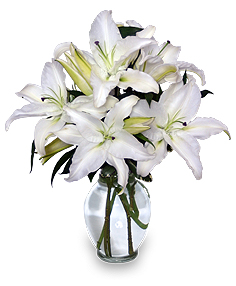 Casa Blanca Lilies
Arrangement
This pure white bouquet of Casa Blanca lilies makes an elegant statement as a perfect floral tribute, centerpiece or decorative arrangement. These lovely lilies also leave a soft fragrance in the air. Show loved ones that you care with fresh flowers from The Orchid.
The chill maybe in the air, but The Orchid creates a cool elegance with winter flower arrangements. Chase away the winter blues with a selection of fresh flower arrangements to adorn your home. Celebrate the beauty of fresh fallen snow with glacier-white colored flowers, intertwined with a platinum ribbon exquisitely arranged in a vase. If you love the nighttime winter sky, bring a little star gazing to your office with an amazing 'Star Gazer' lily flower arrangement. A breathtaking display of winter beauty is found in the frosty air, moist snowflakes and billowy clouds of the season. With each floral bouquet, The Orchid creates a mesmerizing winter wonderland.